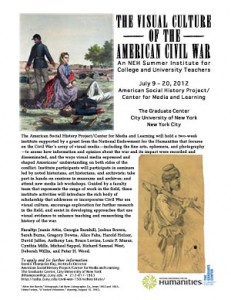 It is my hope that this little web venture will serve two tasks: first, to be a space where I can test some preliminary ideas about and report on my research on the visual culture of the Civil War; and, second, to inform people interested in the subject about relevant scholarship, public history, and history education projects. So, let me begin by noting two upcoming events and one online resource (all of which, I should add, I am involved in one capacity or another).
Since its founding in 2005, the Center for Historic American Visual Culture (CHAViC) at the American Antiquarian Society in Worcester, Massachusetts, has been holding annual week-long summer seminars devoted to researching, teaching, and understanding the U.S. past through archival visual materials. This year's seminar from June 17 to 22 will focus on "Seeing the American Civil War: How Visual Culture Recorded, Interpreted, and Remembered the Conflict," interrogating the range of visual media that represented people, events, places, and policies during the Civil War and the ways photographs, paintings, news illustrations, prints, cartoons, maps, textiles, and monuments affected perception and opinion during and after the conflict. Application forms, along with the seminar's preliminary schedule, are available here. The deadline for applications is March 15.
This coming July, the American Social History Project/Center for Media and Learning will host a National Endowment for the Humanities summer institute for college and university teachers on "The Visual Culture of the American Civil War." The two-week institute (July 9-20) at the City University of New York Graduate Center features seventeen of the leading scholars of the war and its visualization in an intensive exploration of the Civil War's array of visual media—including the fine arts, ephemera, and photography—to assess how information and opinion about the conflict and its impact were recorded and disseminated, and the ways visual media expressed and shaped Americans' understanding on both sides. Applications to participate will be accepted until March 1, 2012. To apply to participate or get more information, go to the institute website.
Finally, in November 2011 the American Social History Project held the last of three public panels marking the sesquicentennial of the beginning of the Civil War. The November event, "Is There Anything More to See?," featured a panel of noted art historians and historians that addressed the persistence of photography's influence over the vision of the war, and what remains to be learned from the medium and the war's visual record. The entire session is viewable here.